Bake up some yummy refrigerator cookies!
Hello SaltTree readers! I'm Barb from Keeping up with the times — a blog about Photography, Homemaking, and Life. I'm very happy to be a part of the Christmas Cavalcade and a big thank you to Amber for having me. Today my post is about something I really love… food!
I just love.love.love. refrigerator cookies at Christmas time. Such convenience! Whip up a batch of dough, roll into logs, wrap in parchment paper. You can store the logs in the fridge for a day or two or freeze for a month. Take them out any old time and you can have fresh baked cookies in an instant!
They also make an awesome little hostess gift if you wrap them up in a cellophane bag and add a pretty Christmas topper with a tag.
After countless years of using an old family recipe, I decided to try something new. I couldn't have been happier with the results. They are buttery, light, and tender with a bit of chewy goodness from the cherries. They are also prettier!! And we all know it's all about how it looks, right? OK, maybe not, but it's nice.
I like to bake these cookies just before guests arrive so that the buttery sweet smell fills the house and makes me feel like Mrs. Claus herself…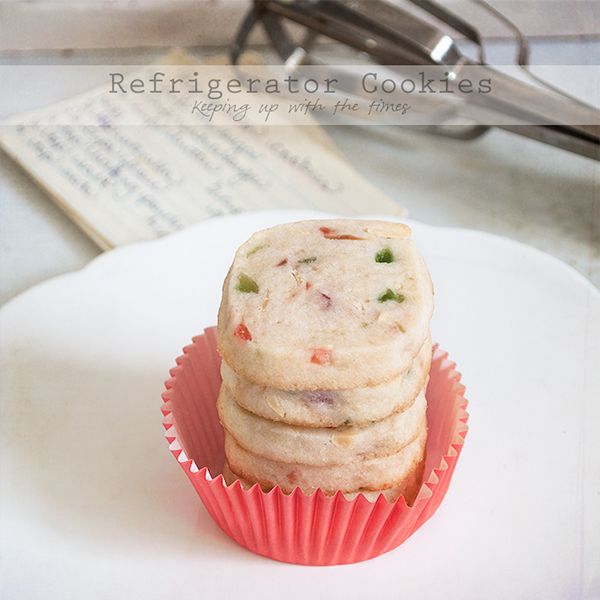 PREP 20 MIN | TOTAL 1 HOUR
1 cup unsalted butter
1 cup white sugar
1 egg
1 1/2 tsp pure vanilla extract
2 2/3 cup flour
1/2 tsp baking powder
1/4 tsp salt
3/4 cup very finely chopped red and green glace cherries
1/2 cup toasted sliced almonds
CREAM butter, sugar, egg, and vanilla.
SIFT together dry ingredients. Add to the butter/sugar mixture. Mix well. Fold in the cherries and almonds.
DIVIDE the dough into thirds, place each on a separate piece of wax or parchment paper. Shape into 7″ rectangular logs. Wrap the paper around each one and chill for several hours.
SLICE the logs into 1/4″ slices and bake at 375 degrees for 8-10 minutes. Watch closely–you don't want to brown the bottoms too much.
*The uncooked logs can be frozen for one month. When you want to make cookies, remove logs from freezer and let sit for a few minutes to warm up before slicing.
*Adapted from The Joy of Baking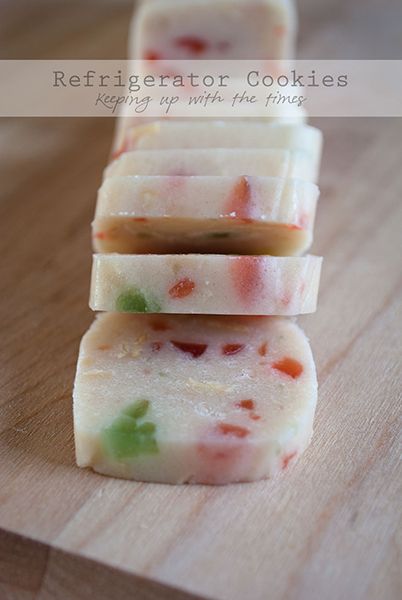 Slice into 1/4″ slices.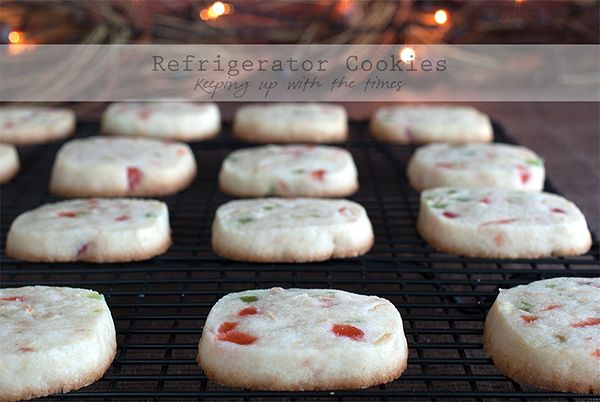 Watch the bottoms so they don't burn!
Package up for gifts.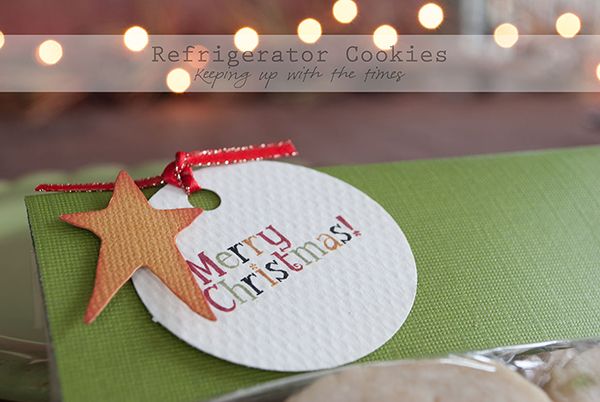 Add a pretty homemade tag.
You can find me most days blogging at Keeping up with the times, or at scrapper to scrapper.
Happy Holidays to everyone!
Visit Barb at Keeping Up With The Times
Follow Keeping Up With The Times on Facebook
Find Keeping Up With The Times on Twitter